45 days to £150K for Prostate Cancer UK...
Welcome to Vanarama's Lease a Van, Save a Man content hub – we'll be keeping this page updated with everything we do to achieve our fundraising goal, and if you just want to donate head to our Just Giving page.
Why donate to Prostate Cancer UK?
More than 11,800 men die from prostate cancer in the UK each year – that's one man every 45 minutes. Prostate Cancer UK's ambition is to stop men dying from the disease by raising enough money to help shift the science over the next 10 years to focus on radical improvements in diagnosis, treatment, prevention and support.
A worthy cause, we think you'll agree!
How are Autorama Group raising money?
The whole Autorama Group (Vanarama, Motorama and Pickup Trucks Direct) has set itself a 45-day challenge to raise £150,000 for the charity – in partnership with the National League.
We're going to donate £50 to the charity every time we lease a van from now until Non-League Day on the 13th October*. We've even renamed ourselves "Manarama" to celebrate the 6-week drive to £150,000!
So, lease a van and save a man, or donate to Prostate Cancer UK via our Just Giving page and make a difference to men and their families across the UK.
Friday 5th October
The campaign's been running for over a month...here's all the highlights in one infographic!
Friday 21st September
It's all kicking off tomorrow at the BT Sport-televised match between Eastleigh and Dagenham & Redbridge. Prostate Cancer UK and the National League visually launch their partnership...AND our new MANarama branding goes live! Whatta day, eh?
Monday 17th September
BOOM! We've smashed through the first major milestone...over £50,000 raised! Thank you, everyone for your continuing support.
Friday 14th September
Following the news of the National League's rebranding to the MANarama National League, the story received a raft of national press coverage, including articles in The Sun, The Daily Mail, The Mirror, BBC Sports, The Metro and Eurosport, and loads of local press coverage.
And don't forget to check out the tweets of support the drive has been getting on Twitter throughout this page.
— Angela Culhane (@CEOProstateUK) September 13, 2018


— Luke Pawley (@lmpawley) September 13, 2018


From a man who was diagnosed last year with the incurable version thank you so much for what you are doing. It means so much in the drive to save men's lives and to me personally

— Tony Collier (@ethansgrumps) September 13, 2018
Andy, we've hit £48,500 in donations and deals today! Nearly a third of the way there...
Thursday 13th September 2018
Following a boost of leases and donations, we're well on the way to £150K! Today's grand total stands at £44,200 - thank you to everyone who has leased or donated so far, you're supporting a fantastic cause.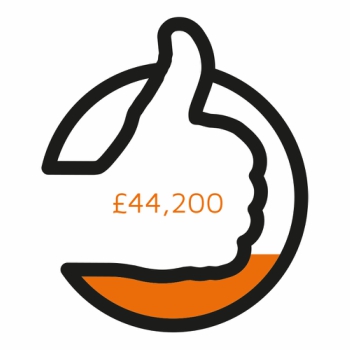 Monday 10th September 2018
We reached a milestone on the drive the £150,000 with nearly £15,000 raised by our £50 donations every time someone leases a car or van.
Weekend press coverage - 8th and 9th September 2018
Kevin Webber mentioned his coming to speak with the team and our charity drive in his column in The Mirror...and Jeff Stelling spoke about us in his column in The Non-League Paper - getting the message out is vital so we really appreciate the support.
Friday 7th September 2018
We renamed ourselves "Manarama" to celebrate the 6-week drive to raise £150,000 for Prostate Cancer UK!
Monday 3rd September 2018
Kevin Webber, ambassador for Prostate Cancer UK, came into our offices to launch the 45 days to £150K to the entire Autorama team! Here's Kevin (left), with Autorama Group CEO and founder Andy Alderson on the day.
*£50.00 including VAT is given by Autorama UK Ltd to Prostate Cancer UK.  The minimum to be paid is £100, 000 including VAT.  Prostate Cancer UK is a registered charity in England and Wales (1005541) and in Scotland (SC039332). Registered company number 02653887.